Self-actuating
Flip-up
Flood
Barrier
SAFU barrier requires no power or people — it's all powered simply by the flood itself . (When the Trough fills , hydrostatic pressure is created and barrier panel may get pushed up against buoyant .)
The barriers are perfect for underground parking garage without the keepers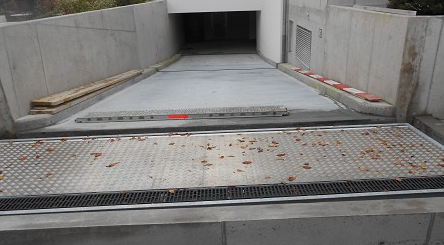 Key Features
■Noiseless operation.
■Virtually Maintenance Free.
■No storage required.
■Thanks to its design of self-actuation , you don't have to worry during a power outage.
■Protect your properties automatically . even when there is nobody present to close it .

■ Does not infringe on the architectural appearance .
■ SAFU barrier offers full time protection .

Materials
■Panel: Stainless steel etching sheet.
■Frame : Manufactured from 3 mm stainless steel sheet .
■Frame is reinforced with reinforcing ribs (10mm) to strengthen it .
■Gas traction spring
■Trough : Manufactured from stainless steel sheet .